Warehouse Safety Training Course (Webinar)
The cost of this Webinar is: £25, plus VAT
Venue: The comfort of your own office/home
Select a course from the timetable below
Upcoming Webinar session on Warehouse Health and Safety
Warehouse safety training – warehouses can be dangerous places – there is a lot going on in them, and there are lots of opportunities for serious injuries and fatal accidents. Warehouse safety, however, need not be complicated, and this warehouse safety training course will help you to understand how to do it properly.
Many businesses have storage and warehouse facilities as an integral and essential part of their operation, and so warehouse safety becomes an important issue. These may be very busy places at all times (such as in a logistics operation), or they may be quiet for many hours a day, but have periods of intense activity. Warehouses can be dangerous places and people do get hurt in them in several ways. Many of the injuries suffered can be avoided by taking health and safety seriously and by taking some simple steps to ensure warehouse safety; all derived from simple risk assessments.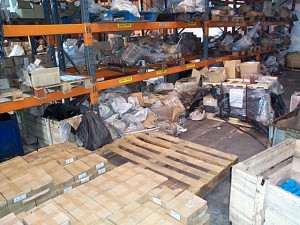 This course covers the important aspects of warehouse safety training, including:
Introduction to Risk Assessment for the warehouse environment
Slips, trips, and falls
Manual Handling, lifting and carrying, etc.
Work at heights (falls from height and falling objects)
Use of access equipment
Vehicle movements (trucks, trailers, and lift trucks)
Exposure to substances
Exposure to the weather (cold weather, sunshine)
Machinery-related injuries
Racking and storage system and arrangements
sundry other warehouse safety training related issues
Excellent training, delivered in an easy to understand manner.
Dave Urwin, Amari plc, Manchester