Food Safety Training
Although every food business uses, processes and sells food in different ways, food safety training is necessary for every food business. The general issues and fundamental principles of good food safety remain the same – whatever the style of operation.
Select a course from the timetable below
The law states that "The proprietor of a food business shall ensure that food handlers engaged in the food business are supervised and instructed and/or trained in food hygiene matters commensurate with their work activities."
This is where we can help you! We can provide the appropriate Food Safety training for you and to your workers. While our courses will be sure to cover all of the general issues and fundamental principles, we will also draw on your practices and tailor the training to be more specific to your environment. Where appropriate, we will hold the training at your premises, ensuring that the training relates to your issues and your procedures.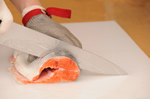 Good Food Safety is part of good business, so don't compromise and don't put your commercial reputation in jeopardy.
We offer the following Food Safety Training courses:



Level 2 Award in Food Safety

Level 3 Award in Food Safety Supervision

Level 4 Award in Managing Food Safety
These courses lead to:
A firm grasp of the importance of food safety and knowledge of the systems, techniques and procedures involved
An understanding of how to control food safety risks (personal hygiene, food storage, cooking and handling);
Confidence and expertise to safely deliver quality food to customers.
These qualifications should be recommended at least every three years.

Call us on 01509 550023 to find out more about our food safety courses, or email us at enquiries@lrbconsulting.co.uk.